17 years of experience
The owner of the office has 17 years of experience in managerial positions from work in the Accounting and Finance Departments of well-known international companies operating in Poland.
He has a license from the Ministry of Finance entitling him to provide bookkeeping services.
After few We have experience in bookkeeping of companies operating (among others) in the following industry: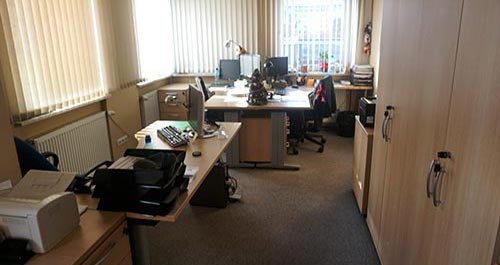 We provide our services to entities employing dozens of people as well as small family businesses.
We strive to make our services meet the modern standards applicable in Europe.
History
The potentiality of the SOLVE Accounting Office is created by many years of experience and knowledge of the office staff and its owner.
The owner of the company worked for 17 years in companies with foreign capital in Poland, and previously spent two years in the US as part of an international scientific program (including participants from 23 countries).
He worked in the Accounting and Finance departments at:
a well-known auditing and consulting company belonging to the so-called; "Big four"
an American company operating in Poland in the production sector for agriculture
a well-known automotive group selling cars and spare parts
American pharmaceutical company
including the last 11 years – taking the position of Finance Director.
SOLVE office staff are people with experience in accounting, HR and payroll departments of domestic companies as well as large companies with international capital.
SOLVE – as part of cooperation with an independent legal office, offers comprehensive legal services for companies, supported by many years of experience in legal consulting for small, medium and large enterprises.
SOLVE – as part of cooperation with an independent auditing office, offers audit services in the field of auditing for small, medium and large enterprises.
The office has a license from the Ministry of Finance entitling to the provision of accounting services (license number 28539/02).
We are a professional and experienced company providing a whole range of accounting services, including:
Offer
As a modern company, well-oriented on the services market – we are competitive in price and open to individual arrangements with the client. We work with an IT company and the Law Firm.
Who do we work for?
Our services are intended for all types of business entities, regardless of their sector sector and market position.
Our experience allows us to serve clients with a very diverse organizational form; both natural persons conducting business as well as civil companies and limited liability companies.
We are also ready to deal with accounting for foundations and associations. Our clients may include production, service and commercial companies (including foreign trade).
What we offer:
keeping accounting or tax books (trading books, KPiR, lump sum)

preparing payrolls and full HR and accounting services

preparation of CSO reporting

preparing monthly statements and analyzes regarding the company's operations in the form agreed with the client
What we offer:
drawing up the annual balance sheet and income statement together with all resulting declarations and statistical reporting

reporting service of a statutory auditor

consulting in the field of organization and computerization of accounting and administrative services in the field of implementing IT systems accounting

services in the field of implementation of accounting of IT systems

preparation of transfer pricing documentation

participation and assistance in financial aspects of relations with foreign contractors
Thanks to many years of practice and industry knowledge, we are able to adapt our services to each client.
We service companies in the field of full accounting, income and expense books, lump sums and Social Security, and human resources and payroll.
Pricing:
The price list allows you to familiarize yourself with the level of costs of accounting services used in our office.
We put it only as a guide because we try to treat each client individually and adjust the price of our services to the level corresponding to both parties.
In general, the amount of fees for our services depends on the type of records kept (eg trading books, PKPiR, lump sum) and the number of accounting documents in a given month
KPiR accounting documents
| dokumentów księgowych | net price |
| --- | --- |
| up to 5 pcs | PLN 150.00 |
| up to 20 pcs | PLN 200.00 |
| up to 30 pcs | PLN 250.00 |
| up to 50 pieces | PLN 350.00 |
| up to 100 items | PLN 550.00 |
| up to 150 pieces | PLN 700.00 |
| up to 200 items | PLN 850.00 |
Account books accounting documents
| dokumentów księgowych | net price |
| --- | --- |
| up to 20 items | PLN 600.00 |
| up to 50 items | PLN 1000.00 |
| up to 100 items | PLN 1,300.00 |
over 100 accounting documents, the price is set individually.
HR – Wages number of employees
| ilość pracowników | net price |
| --- | --- |
| from 1-5 employees | PLN 40.00 per person |
| from 6-20 employees | PLN 35.00 per person |
Customers:
We know that the best people trust us and experience and business contacts are the most important recommendation for us.
Our regular clients include:
ul. Jana Pawła II 10, room 6
05-500 Piaseczno
HR and payroll services
Mirosława Lesniewska
Accounting
Adrianna Stróżyk
Polityka Prywatności
Wyrażam zgodę na przetwarzanie danych osobowych w związku z wysłaniem zapytania przez przez formularz kontaktowy. Podanie danych jest dobrowolne, ale niezbędne do przetworzenia zapytania. Zostałem poinformowany/a, że przysługuje mi prawo dostępu do swoich danych, możliwości ich poprawiania oraz żądania zaprzestania ich przetwarzania – przesyłając prośbę na: djakubowski@solvebiuro.pl. Administratorem danych osobowych jest SOLVE Biuro Rachunkowe, 05-500 Piaseczno, ul. Żeromskiego 9A lok.12.
Możesz skontaktować się z Administratorem pisząc na adres: SOLVE Biuro Rachunkowe, 05-500 Piaseczno, ul. Żeromskiego 9A lok.12 lub telefonując pod numer: 509 269 807.
Postanowienia szczegółowe
Twoje dane przetwarzane są w celu realizacji umowy cywilnoprawnej. Podanie Twoich danych osobowych jest dobrowolne, lecz konieczne w celu realizacji powyższej umowy.
Twoje dane osobowe przetwarzane są wyłącznie w zakresie związanym z realizacją powyższych celów. Nie udostępniamy Twoich danych innym odbiorcom oprócz podmiotów upoważnionych na podstawie przepisów prawa.
Administrator nie zamierza przekazywać Twoich danych do państwa trzeciego ani do organizacji międzynarodowych.
Twoje dane będą przechowywane nie dłużej niż jest to konieczne, tj. przez okres trwania umowy oraz wyznaczony właściwym przepisem prawa.
Masz prawo żądać od Administratora dostępu do swoich danych, ich sprostowania, zaktualizowania, jak również masz prawo do ograniczenia przetwarzania danych.Zasady udostępnienia dokumentacji pracowniczej zostały określone przez przepisy polskiego prawa.
W związku z przetwarzaniem Twoich danych osobowych przez Administratora przysługuje Ci prawo wniesienia skargi do organu nadzorczego.
W oparciu o Twoje dane osobowe Administrator nie będzie podejmował wobec Ciebie zautomatyzowanych decyzji,
w tym decyzji będących wynikiem profilowania*.
* Profilowanie oznacza dowolną formę zautomatyzowanego przetwarzania danych osobowych, które polega na wykorzystaniu danych osobowych do oceny niektórych czynników osobowych osoby fizycznej, w szczególności do analizy lub prognozy aspektów dotyczących pracy tej osoby fizycznej, jej sytuacji ekonomicznej, zdrowia, osobistych preferencji, zainteresowań, wiarygodności, zachowania, lokalizacji lub przemieszczania się.